With over 50 years of experience, 3A Composites is listening to the needs of architects, fabricators and installers. The proportion, surface structure and colouring of façades lead to the creation of unique structures; their interplay characterizes the ALUCOBOND® idea. Have a look at the different colours and surfaces on offer to get the creative juices flowing.
ALUCOBOND® solid & metallic
No matter whether a soft white or a vibrant red is selected, solid colours are always a good choice when a uniform appearance without special effects is required. The gloss of solid colours is between 25-40 % according to Gardner Scale.
The different appearance of colour and gloss under various light conditions and viewing angles gives metallic surfaces a vivid impression and brings them to life. The gloss of metallic colours is between 25-40 % according to Gardner Scale.
Brochure: https://alucobond.com/cms/deliver/ALUCOBOND_Solid_and_Metallic_EN_DE.pdf
ALUCOBOND® spectra & sparkling
Brilliant, iridescent colours found in nature were the inspiration for spectra colours. Through special colour pigments, various colour gradients of gloss and depth are created. Depending on the type of pigment and viewing angle, enchanting colour effects with highlights and interesting colour gradients add new visual dimensions.
With their bright sparkling and shining metal effects, ALUCOBOND® sparkling colours provide a subtle and elegant impression.
Brochure: https://alucobond.com/cms/deliver/ALUCOBOND_spectra_sparkling_EN_DE.pdf
ALUCOBOND® naturAL
The natural beauty of metals used in architecture is accentuated particularly by the naturAL surface series. Its imposing, vivid appearance combined with the metallic gloss, light reflection and absorption of these surfaces makes a truly memorable impression.
Brochure: https://alucobond.com/cms/deliver/ALUCOBOND_naturAL_EN_DE.pdf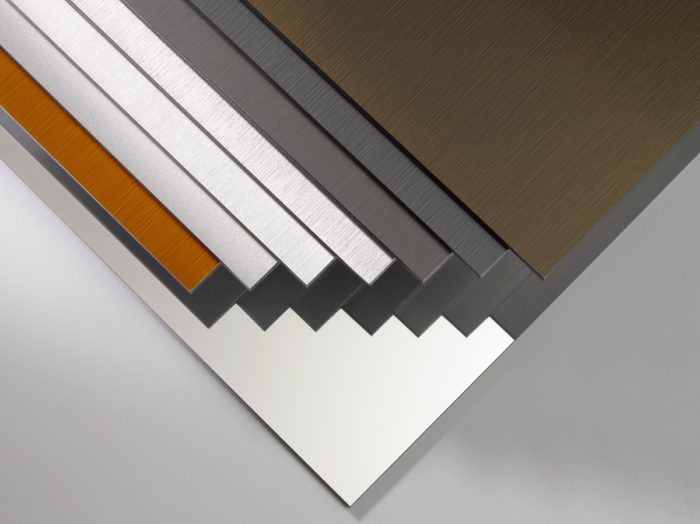 ALUCOBOND® anodized look
In today's architecture, the surfaces of the ALUCOBOND® anodized look series display the natural beauty of satin-smooth metal at its best. The ALUCOBOND® anodized look is used where architects focus on producing high quality and appearance – for rainscreen facades, wall cladding, roof perimeter detailing, curved features, column casings, along with many other interiors and exterior architectural applications.
Brochure: https://alucobond.com/cms/deliver/ALUCOBOND_anodized_look_EN_DE.pdf
ALUCOBOND® terra
ALUCOBOND® terra unites the typical crystalline surface and velvety feel found in natural stone with many of the advantages of ALUCOBOND® composite panels. Unlike most natural stone, ALUCOBOND® composite panels are both very thin and light, but offer at the same time a high level of flexural and tensile strength. Large format panels can be easily and accurately fabricated, processed, transported, installed, and, in addition, three-dimensionally shaped by using folding and roll bending techniques. Unlike many stone surfaces, ALUCOBOND® terra is also weather-resistant and colourfast.
Brochure: https://alucobond.com/cms/deliver/ALUCOBOND_terra_EN_DE.pdf
ALUCOBOND® urban
Urban lifestyle appeals to us. Urban life is characterised by interplays of light and shadows, transparency and colour. The choice of colour is getting more and more important within the urban context – the wish to shape its own living space lies in the nature of mankind. Especially the interaction of glossy and mat surfaces is part of urbanity. Within this context the new colour series ALUCOBOND® urban was developed: muted, extremely mat surfaces provide open space for design – be it detached or in combination with glossy surfaces and glass – the mat colours of ALUCOBOND® urban support the urban character of the building.
Brochure: https://alucobond.com/cms/deliver/ALUCOBOND_urban_EN_DE.pdf
ALUCOBOND® rocca
Façades take on a rugged stone look with the ALUCOBOND® rocca surface series. Divested of colour, the secret of their special character is only revealed by light refraction on their surface. The Rocca range is available in four shades: the soft jet black of graphite, the rugged terrain of Dolomite anthracite, the weathered iron-grey of a meteorite and the crisp silver-white of quartzite.
ALUCOBOND® rocca features a unique, perceptibly textured structure where light is broken up naturally into the widest range of shades. Depending on your viewing angle and how the light falls, the interface between gloss and matt on this subtle surface structure can be more defined and vibrant or softer and more subtle. This, too, is modelled on natural stone: the nature of the rock dictates a different sheen at the fracture lines.
Brochure: https://alucobond.com/cms/deliver/ALUCOBOND_rocca_EN_DE.pdf
ALUCOBOND® vintage
ALUCOBOND® vintage – expressive and timeless. Natural patina on a material gives it a truly distinctive charm, and individual weathering features create a nostalgic touch. The imperfection and irregularity of the "random" appearance are the very aspects that open up a wide range of new aesthetics when combined with modern architecture.
'Fine-grained and rough concrete' free of moss growth, 'industrial and rusty metal' which does not bleed, 'copper with a patina' and 'antique brass' without creeping corrosion – with ALUCOBOND® vintage matt surfaces you can hold back time. The weathering and ageing processes typical for these materials are halted at their most aesthetic, and the reduced sheen gives the finishes an exclusive and authentic antique look.
Brochure: https://alucobond.com/cms/deliver/ALUCOBOND_vintage_EN_DE.pdf
ALUCOBOND® legno
ALUCOBOND® legno composite panels are real natural beauties: five different wood-look finishes showcase wood at its most exclusive and a special coating adds a grainy structured feel to the surface. It makes the lively wood decors even more authentic and the wood grain pattern is not repeated, even in five-metre long panels.
Brochure: https://alucobond.com/cms/deliver/ALUCOBOND_legno_EN_DE.pdf
ALUCOBOND® design
Create your truly unique façade
Let yourself be inspired by the designs in our collections or use our Designmaker to design the decor of your building envelope yourself. We will also gladly realise individual design requirements.
ALUCOBOND® design offers excellent print quality (direct-to-substrate digital printing) with a particularly wide range of colours and large depth of colour; but it is also suitable for the realisation of contours, 3D effects or very individual design requirements.
Of course, the range also includes metal (e.g. corten), wood, stone or concrete decors.
Embedded in our high-quality ALUCOBOND® coil coating, ALUCOBOND® design offers very durable and UV-stable design surfaces for outdoor use on façades.
The maximum sheet size without decor repetition is 1,500 mm x 5,000 mm;
a size of 6,800 mm is possible with vector graphics.
We offer a high degree of flexibility with, at the same time, low minimum order quantities.
250 sqm ALUCOBOND® PLUS; 500 sqm ALUCOBOND® A2
We will be very happy to support you with the realisation of your design requirements and any technical questions.
All this together with ALUCOBOND®'s proven deformation behaviour (e.g. folding, round bending) provide endless possibilities to your creativity and the design language of architecture.
Flyer: https://alucobond.com/cms/deliver/ALUCOBOND_design_Flyer_2020_EN.pdf