Boomgate Systems, known for High Security and Anti-Terror equipment across the African continent. The business achieves this by providing quality products built with durability and effectivity in mind.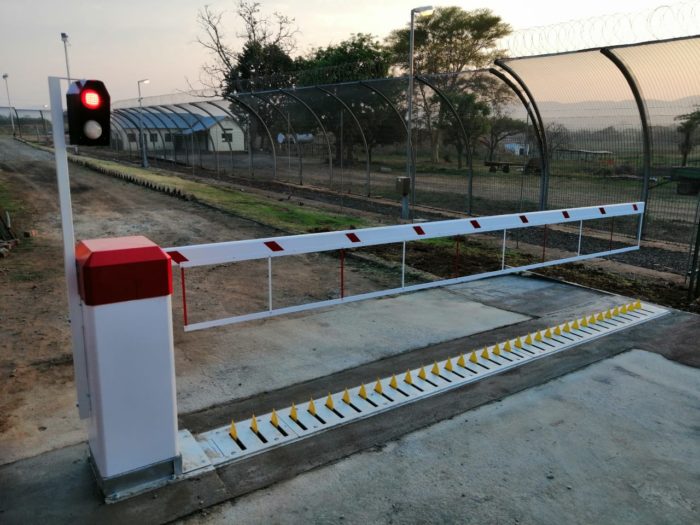 The two (2) new renovations and additions to the South-Africa – Lesotho border post saw the need for a security solution that would be effective in managing a large volume of vehicles in and out of both countries. Estimated that a total of seven (7) million people from SA travel to and from Lesotho per year via roads; according to a study done in 2014. That's a lot of traffic to control.
Boomgate Systems' opportunity to work with the developing teams; provide the solution requirements for this project and install the Scorpion Spike Barriers is a company portfolio highlight.
A total of seven (7) Scorpion Spike Barriers for this project ranging from 3,5m to 5m in length. The Scorpion Spike Barriers are manufactured at Boomgate's premises in Roodepoort. Designed to offer protection from both directions of travel; with a mechanical locking system that ensures that the spikes remain upright if someone tries to drive through them without the required authorisation.
The Scorpion Spike Barrier comes standard with a 2-year mechanical warranty. The tray of the Scorpion Spike Barrier is Hot-dip galvanised. The barrier housings are Stainless Steel 3CR12; powder-coated to withstand even the harshest of conditions.
Did you know that the Scorpion Spike Barrier is the most installed Spike Barrier at Shopping Centres across South Africa? Installed at: Mall of Africa, Mall of the South, The Glen Shopping Centre, Cresta Shopping Centre, Festival Mall.
If you have any requirements for Access Control Equipment and High-Security Equipment, feel free to contact one of our Sales Executives for a site evaluation and assessment.