Shanghai-based fast-food restaurant company Yum China's sentiments declined due to closures and low foot traffic, yet digital sales, deliveries and takeaways remain healthy prospects.
This according to leading data and analytics company, GlobalData.
Decrease in operating hours
According to GlobalData's Filing Analytics Platform, Yum China's earnings transcript sentiment score fell by 7% in the first quarter (Q1) of 2020 ended 31 March compared to the fourth (Q4) quarter of 2019. While the sentiment scores for Starbucks and McDonald's declined 21% and 34%, respectively during the same period.
Sentiments slumped due to a 14% decline in Q1 2020 revenue compared to Q4 2019. COVID-19 forced Yum China to close down stores in late January 2020, and by February 2020, the company shut around 30% of all stores. For open restaurants, a decrease in operating hours caused slumps in same-store sales while consumer behaviour was influenced by social distancing and subsequently impacted the foot traffic. Sales deleveraging in the KFC and Pizza Hut segments also eroded the company's margins. 
Rinaldo Pereira, senior analyst at GlobalData, says: "Unlike its counterparts, Yum China's sentimental drop was not severe as it quickly shifted its focus to contactless takeaways and home deliveries. The company also drove innovation across its restaurant menus to increase customer traction."
Online sales
During Q1 2020, deliveries contributed to around 35% of the company's sales, and despite the pandemic, the segment witnessed 16% growth. Yum China experienced a shift towards online sales due to its innovative menus. In Q1 2020, 84% of KFC's sales were digital, while it was 65% for Pizza Hut.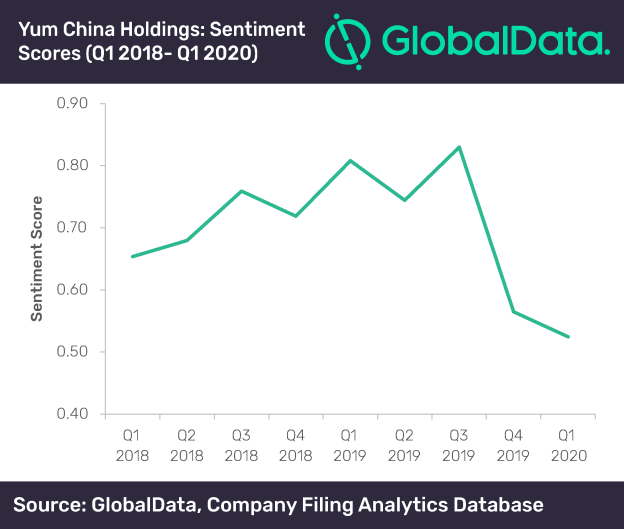 However, increasing rider costs, sales deleveraging and commodity inflation offset segmental margin growth. Yet, the company was able to keep up the overall profits due to a US$50m reduction in rental expenses.
According to Yum China, foot traffic and customer behaviour started stabilising in April 2020. However, it had not reached pre-lockdown levels. The lingering social distancing and travel declines are hampering weekend sales. Pizza Hut was the worst hit due to its casual dining style, although the pandemic helped the food chain to focus on deliveries and digital sales. Pizza Hut also faced excess inventory challenges during the quarter due to store closures. The company used excess inventories for creating newer items for takeaway orders.
Pereira concludes: "Despite the contagion causing cash constraints for several companies, Yum China completed the acquisition of Huang Ji Huang and KFC Suzhou. The company is focusing on strategic investments to help it weather the future business impacts of COVID-19. Yum China's management expects to boost the takeaway business to help offset dine-in and delivery challenges."